In the second part on 'Art in Limburg', Babke Moelee explains how her fashion background has influenced her work as a sculptor.
Whistling kettle
This week I rang Babke Moelee's doorbell, in Meerssen. She has made a habit of welcoming studio visitors to her house with fresh made tea. She will put her whistling kettle (no kidding!) on her stove as soon as you enter. Here you feel welcome!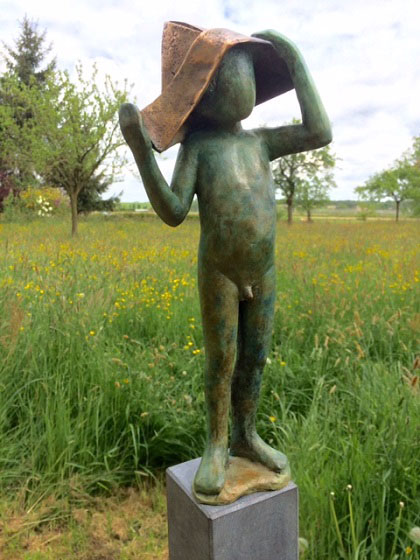 Singing in the rain
Babke has a very happy disposition and makes me feel at home in her cosy kitchen-diner right away. Together we look back at the
Kunst en Kastelen
exhibition in Gronsveld, Zuid-Limburg, where we first met and where I also got to see her work for the first time. When you look at Babke's sculptures, you will be taken back to your childhood: this was what it felt like on the swing, to jump in puddles of rain with your boots on, and when holding a balloon… When you see the sculptures and their creator, there is no doubt about it. Babkes creations are just as lively, happy and expressive like she is. When we have finished our tea it is time to cross the street to Babke's large studio, that she shares with her partner, Frans van Straaten, who is a Dutch sculptor too.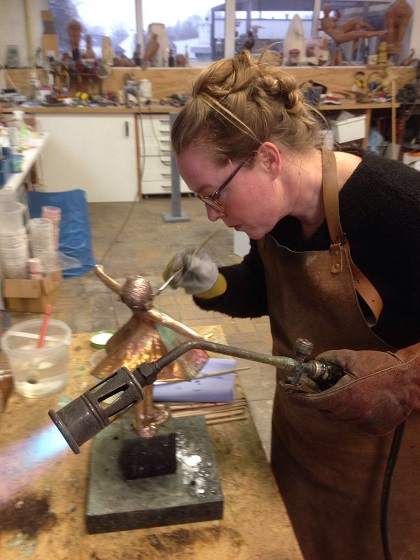 Couturier Babske
While visiting Babke's studio, the influence of her fashion background is immediately apparent: Babke's sculptures are dressed. Of course, those fabrics will be lost in the casting process, but by then they will already have left an imprint. Those clothes are significant for her work; they have a function: the wind plays with the girl's liveliness dress, and the girl on the swing catches the wind under her skirt. It brings movement in her creations, and by doing so, she perfectly captures the moment. It occurs that Babke's couture designs all date back to the former century, emphasizing feelings of nostalgia.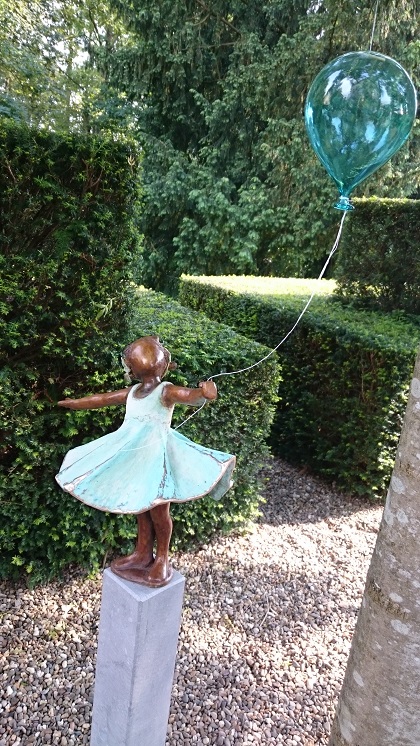 Limburg bronze and Murano glass
Babke tells me that she usually works without using moulds. If someone wants a sculpture that already has been created before, she'd rather recreate it; naturally the result will be slightly different each time, making all of her creations unique ones. Babke leaves the casting of her work to a foundry, but she applies the patina herself, using a roofer's torch and different chemicals for different colours, like ferric nitrate for brown, or copper nitrate for green. The glass balloons Babke has been using for some of her creations, are made by a glass blower from Murano. Babke passed his studio occasionally while on holiday in Venice, and it was love at first sight. The feeling was mutual as the glass blower now also has got one of Babke's bronze girls with balloon in his shop, which is not for sale!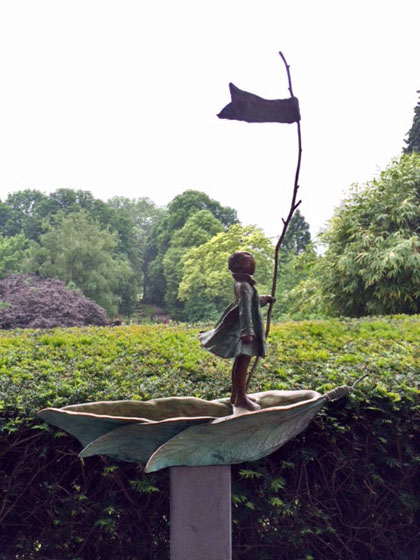 Exhibitions
Babkes sculptures are suitable to be placed both indoors and outdoors. Babke Moelee takes part in exhibitions across The Netherlands and sometimes abroad. Recently she exhibited at
Kunst aan de Ee
in Friesland. In August she will exhibit at
Kunst in Ootmarsum
and in September she will join an exhibition at Kasteel Eijsden in Limburg. Please visit
Babke's website
for further exhibition dates and to get in touch with her, in case you would like to visit her studio too. If you're lucky you may even get served a piece of that delicious Limburg flan with your tea!
© Els van de Weg, June 2016