Amongst all galleries and museums on the Zuid-Limburg Tourist Board website, I discovered 'Galerie De Kleine Tuin', a house gallery with sculpture garden in the city of Heerlen. This Gallery is owned by and home to sculptor and ceramist Marie-José van der Meer. I stopped by for a visit.Sculpture Garden
This gallery is situated at the artist's atmospheric and modern courtyard house. The gallery entrance is via the surrounded inner sculpture garden. Personally, I prefer sculptures being exhibited outside, because of the surrounding space and natural light. However, Marie-José's sculptures fit in perfectly well both outside and inside the house. This is because most sculptures are small to medium size.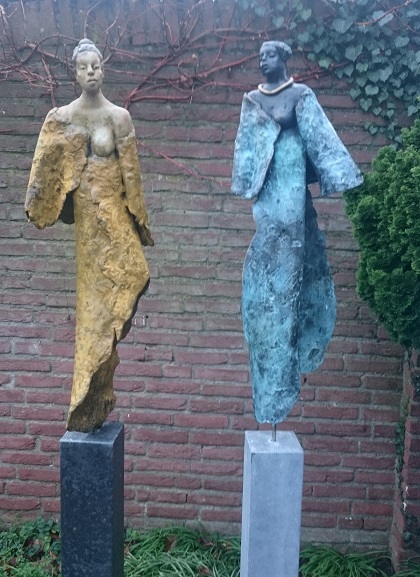 Figurative sculptures
Marie-José van der Meer has developed her own recognisable style. Her bronzes are timelessly dressed and their fluent lines give the impression of movement. Most of her sculptures are human figures. However, on request she also has created a series of pig sculptures and she makes abstract work too. She likes using colours, but even when not coloured, she creates beautiful vivid shades of colours by using a roofer's torch. (see last photo for results). Marie-José van der Meer has her studio at home. She leaves the casting of her work to Jos Custers, foundry owner in the village of Grathem. Marie-José invites me to join her on one of her next visits to the foundry, which would be really lovely!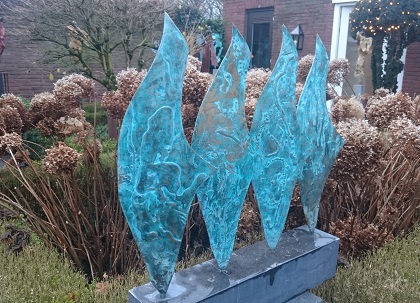 Talent
It has been thirty years since her talent was discovered when a friend took her along to painting lessons with Jo van de Brand. Later she took lessons in colour techniques and model painting with the well-known Dutch painter Wim Albrink. After ten years of painting Marie-José discovers her passion for sculpturing. From then on, she is completely dedicated to his art form. She takes lessons with Louis Wierts in the village of Schimmert and later with the Limburg sculptor Peter Schuijren.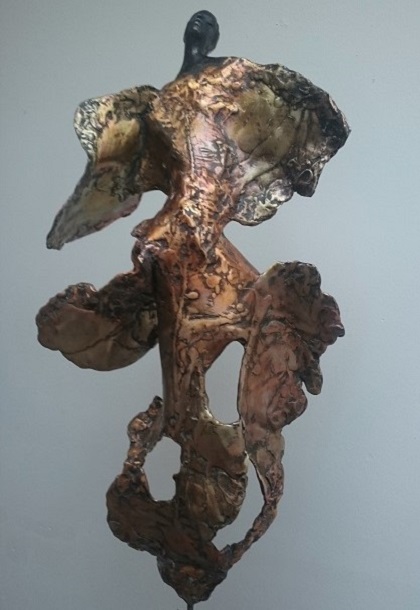 House Gallery
Besides bronzes Marie-José has also created a variety of ceramic works. Altogether she succeeded in compiling a diverse artwork collection. Marie-José van der Meer is a cheerful and energetic artist who enjoys welcoming art lovers at her home.
Exhibitions and Art Lease
Her work has been showcased regularly on exhibitions at home and abroad. Some of her artwork is part of the Bonnefanten Art Lease collection and a number of art pieces are showcased at the public spaces of Wellness Hotel Klein Zwitserland in the village of Slenaken, Zuid-Limburg. Fancy visiting 'Galerie De Kleine Tuin' yourself? Then please do not hesitate to get in touch with Marie José van der Meer via: +3149105351. An overview of future exhibitios can be found on the gallery's website:
www.galeriedekleinetuin.com
.
© Els van de Weg, January 2018